Covid-19 demonstrates why Zero Tolerance Day for Female Genital Mutilation is more important than ever.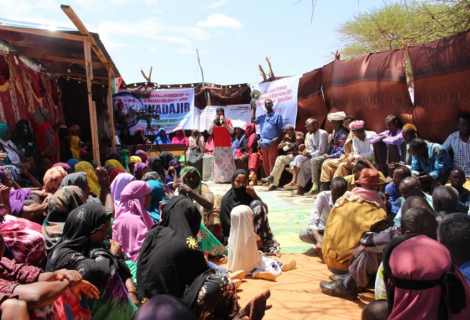 Content warning: This blog contains information about FGM (female genital mutilation) including some graphic descriptions of the practice and may be upsetting for some people. If you have been impacted by, or are currently at risk of, FGM, please see below for information about where you can get support.
By Mohamed Suleiman Tarabi, Programme Monitoring, Evaluation and Learning Officer, ActionAid Somaliland
Saturday, 6th February marked the International Day of Zero Tolerance for Female Genital Mutilation (FGM). Every year, we reflect on progress made and the challenges that we still face to end FGM or cutting, but this past year has seen a worrying increase in girls being cut due to the impacts of COVID-19 and the resulting school closures.  The overall surge in domestic and sexual violence against women and girls that we have seen during the COVID-19 pandemic has been labelled a 'shadow pandemic' by the UN, and globally an additional 2 million girls are estimated to be at risk of undergoing female genital mutilation by 2030.
What is female genital mutilation or 'cutting'?
Female genital mutilation or 'cutting' (FGM/C) is one of the most extreme forms of violence against girls, and an expression of gendered inequalities. It involves the partial or full removal of girls' external genitals, usually performed between infancy to 14 years old.
Somaliland has one of the highest rates of FGM/C in the world, with 99% of women and girls having been cut, and 85% having experienced the most severe form, that involves removing the external genitalia and sewing the vaginal opening closed until the girl's wedding night. Alongside the risk of death, the procedure can cause severe bleeding, infection, infertility, and lifelong health problems. After being cut, many girls never return to school, are forced into early marriage and often experience consequences including psychological pain and trauma, physical pain and complications with childbirth, menstruation and even whilst urinating.
The reasons for practising FGM/C are complex. In Somaliland, it is a traditional practice deeply entrenched in society and is widely considered an important rite of passage into womanhood: girls may be socially outcast if they refuse, including being unable to marry.
Here in Somaliland, girls usually undergo FGM/C during the summer holidays, when girls have more time at home for their wounds to heal. However, the COVID-19 pandemic caused schools to close from March to August last year, leaving girls at home for months and at a greater risk of being cut. Our partners reported that more girls were being cut during this period, and with limited income sources, more people have turned to carrying out the harmful practice as way to earn a living. An assessment from NAFIS Network and Plan International confirmed this, with 80% of adolescent girls surveyed agreed that gender- based violence, including FGM/C had increased during the pandemic.
"Female genital mutilation and cutting is a national tragedy and a violation of human rights. It violates women's and girls' rights to a life of freedom, dignity, and equality." Hibo Adam, Women's Rights Officer, ActionAid Somaliland.
Despite the worrying increase, we can have hope, as we have seen that individual communities have the power to stop practicing FGM and cutting, one village at a time. Since 2009, ActionAid has been engaging individual communities to challenge FGM and cutting and have seen villages across Marodijeeh, Togdheer and Sanaag regions change their attitudes and behaviours.
In partnership with our women's rights partners, Somaliland Women Development Association (SOWDA), Women Action Advocacy Progress Organization (WAAPO), Solidarity Community Development Organization (SCDO) and the Network Against Female Genital Mutilation in Somaliland (NAFIS), our approach engages whole communities, including women, girls, men, boys, community elders and religious leaders to deepen their understanding of the rights of women and girls, and highlight the severe impacts of FGM/C.
We create safe forums for questions to be asked, misconceptions to be addressed, and help people to speak out against the harmful practice through:
informing religious and community leaders about the health and psychological risks of FGM through workshops with medical experts and government officials;
creating open dialogue in communities through structured monthly meetings to gain a deeper understanding of the impacts of FGM and the driving reasons for the practice;
establishing youth forums in schools to raise awareness of the importance of girls' rights and access to education, as well as the harmful impacts of FGM/C;
training volunteers to be champions for ending FGM and cutting in their communities, equipped to campaign at a national level to end FGM and child marriage.
After working with communities in Hawd district last year, community members from five villages stated that they would support a community-wide commitment to eradicate traditional harmful practices including FGM.  Also, 90% of the men who took part in the monthly community conversations said they would now prefer to marry women who have not been circumcised in any way. This is a significant and important shift in attitudes, setting the foundations for longer term behaviour change and eradication of the practice.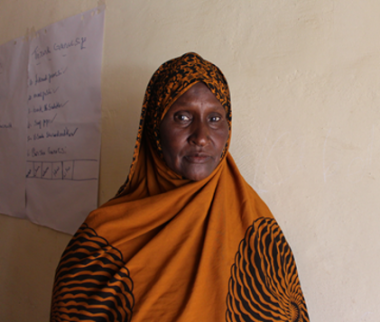 "We cut our children because our mothers did the same. It was considered a cultural and religious duty. We never questioned why women and girls had to go through all the pain they went through, whether as pregnant teen girls or as mothers who experienced prolonged labour. It is as if we were sitting in the dark for so long. Most of our community is now aware of the consequences and religious leaders are challenging the practices, which has facilitated the change."  Sofia Adan, member of Qool-aday Women's Coalition, Hawd district.
While we celebrate this progress, there is still a long way to go to achieve total eradication of FGM and cutting in Somaliland. One of the greatest challenges is the support for the less extreme sunna cut, which does not require stitches. In 2018, the Ministry of Religious Affairs in Somaliland issued a religious decree known as a fatwa banning the most severe type of FGM, but stated that the sunna cut with no stitches is obligatory. This is highly contested, and ActionAid Somaliland, along with our allies and partners will continue to challenge this fatwa and call for a national law to ban all forms of female genital mutilation and cutting. We will not stop until we see zero tolerance for female genital mutilation or cutting. Only a zero-tolerance approach will enable girls and women to claim their full rights to make their own decisions about their bodies and to live free from violence.
ActionAid would like to thank everyone who has supported our work towards ending FGM/C in Somaliland including the Adelman Foundation, Comic Relief, The Ministry of Foreign Affairs and Culture of the Faroe Islands, the ASN Foundation, ForumCiv and many individual supporters.
Click here to read more about ActionAid's work to end FGM and donate in support .
If you have been impacted by FGM and live in Somaliland please call the ActionAid Somaliland complaint response line on 2047.